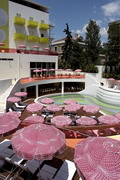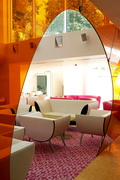 The Semiramis, Karim Rashid's first hotel project, is a fusion of Rashid's
influence and owner Dakis Joannou's vision and own dedication to the
modern art world. Mr. Joannou, an eminent collector, patron of modern
art and qualified architect, commissioned Karim Rashid to create a
hotel that will offer more than extra bed space in Athens.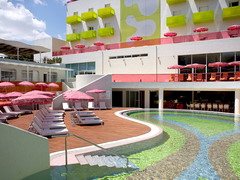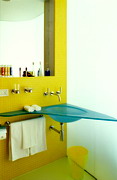 The Semiramis is an intimate hotel that focuses on positive energy,
heightened experiences, culture, art, and design. It is a place for new
contemporary experiences, to enjoy, work, and relax in a truly
memorable way. The 52-room hotel, designed by Karim Rashid, will be
Athens' design-inspired hotel, offering a new intimate alternative to
modern travellers.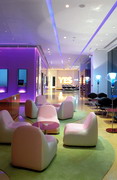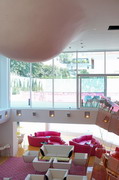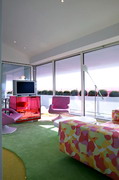 Condé Nast Traveller included it in THE 6O BEST NEW HOTELS IN THE
WORLD and wrote: "This 52-room popsicle is as much a showcase for
Joannou´s contemporary art collection as for Rashid´s curvaceous,
colorful designs... The young staff, in pastel flares and sneakers, are
eager to please."



[Photo: *tathei*]
Egyptian born Karim Rashid creates concept hotels all around UK with the hotel chain myhotel. Such as myhotel Brighton,


Central Brighton boutique hotel, "where Freddie Mercury meets the Maharishi", or myhotel Chelsea "where Sex and the City meets Brideshead Revisited".
Rashid once said: "Now if I was Eminem and I said, 'I want to change the world', then
nobody would have a problem, but, in actual fact, the artist's agenda
is to change the world. A lot of the products I've designed have sold
in millions, meaning that people like my work. So I don't really need
to be judged by the design community."


Rashid is also a DJ, a DJ booth designer, teacher and preacher of Democratic Design. These days in Copenhagen, Rashid has also taken on the role as a curator of the annual Spring Exhibition. The director of the Exhibition Hall Charlottenborg Bo Nilsson, selected Rashid to be the artist to set the standards of the future of art in the 21st Century.




In the above image Karim Rashid arriving at Copenhagen's The Kings New Square in a red cab. He came to the opening to DJ for an hour and enjoy the local hospitality.