Alice Tea Cup
You will not enter a paralell universe when going inside and down the
Rabbit-Hole
at this very charming tea place, but your kids will most ikely enjoy the interiors while you have a nice cup of tea with a scone or quite delightful sandwiches.
www.alicesteacup.com
102 West 73rd St
Mars 2112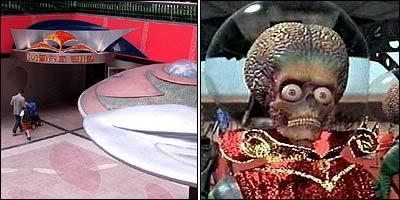 This is a good place to prepare your kids for the up-coming alien invasion that is said to be happening in the very near future. All kids with tendencies to be very interested in the space, stars, planets, Starwars, etc will most likely enjoy their time while the parents also can enjoy a stiffy in the Mars Bar.
www.mars2112.com
Shake Shack
Perfectly located in Manhattans best downtown park for kids, with a big playground in the opposite corner, Shake Shack has also been selected "Best Burger" by New York Magazine. One sits outdoors in the Madison Park where there is also rotating sculpture exhibitions by some of the best artists in the world.
The lines are often very long, as it is also the main lunch, afternoon snack and dinner restaurant for all the nearby office buildings. It is so good, that they have now opened a Shack on a amazinggly central spot in Istanbul, close to some of the world oldes trolley cars and wire train.
Madison Square Park (Madison Avenue & East 23rd Street)
Bubby's

Tribeca Film Industry
people bring their kids to eat the best pie in town. They serve fair trade organic coffee
and make it very inviting for families to hang out without feeling that the kids are disturbing anyone. It is homemade and all southern styles dishes such as Spicy Gumbo soup, pulled pork, heavenly hot artichoke dip, serious mac&cheese and pecan crusted this and that.
120 Hudson St, New York, NY 10013
Big Daddy Diner
Big Daddy Diner in the NIGHT
Waffles at Big Daddy's
Charlie's Angels at Big Daddy's
Jack at Big Daddy's
Get The Dude Burger!
The Oreo Cockie Milk Shake is Amazing!
It's all good, but somewhat expensive...but not to be misses.
http://bigdaddysnyc.com/
Park Avenue South, close to where Max's Kansas City once were